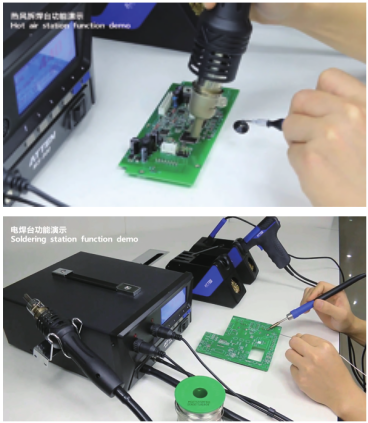 Features:
●High accuracy MCU control is employed to synchronously detect whether the 3 tool channels can be used independently and synchronously without mutual interference.
●Built-in vacuum generator.
●Super power.The whole machine can provide a maximum of 900W power output.
●Stand-alone machine can carry out multiple de-soldering tasks simultaneously.
●Large screen graphics display screen which can display all kinds of parameter data and messages graphically.
●The contents can be presented abundantly
●Automatically identify all kinds of welding tools and load corresponding parameters.
●The software can adjust the temperature automatically which is more accurate and convenient.
●Fault display and alarm functions available.
●Functions such as standby,buzzer ringing,temperature lock and factory data reset available.
●Support communication interface.It can access to a computer, and complete various settings following the specified program.
●Vacuum de-soldering pen is added to facilitate dismantle the de-soldering components.
| Accessory Tool Name: | Hot Air Station | Soldering Station | Desoldering Station | Electronic Tweezers |
| --- | --- | --- | --- | --- |
| ccessory Tool Name | Hot Air Station | Soldering Station | Desoldering Station | Electronic Tweezers |
| Power | Heating component 550W,air pump 25W | 130W | Heating component 150W,vacuum pump:15W | 100W |
| Output voltage | The same with the input power | 24VDC | 24VDC | 12VDC |
| Temperature range | 150~500℃ | 150~500℃ | 150~500℃ | 150~500℃ |
| Standby time | NA | 1-120 minutes | 1-120 minutes | 1-120 minutes |
| Air flow grades | 23L/min | NA | NA | NA |
| Noise | <52dB(A) | NA | NA | NA |
| Temperature adjusting range | -50~+50℃/-90~+90℉ | Temperature adjusting range | -50~+50℃/-90~+90℉ | Temperature adjusting range |
| Lock setting | Available | Lock setting | Available | Lock setting |
| Temperature stability | ±5℃ | ±2℃ | ±2℃ | ±2℃ |
| Tip to ground impedance | <2Ω | Tip to ground impedance | <2Ω | Tip to ground impedance |
| Tip to ground voltage | <2mV | | | |
| Input Voltage | AC 220V/230V/240V 50/60Hz | | | |
| Total Power | 900W(MAX) | | | |
Package includes
MS-900 main unit: 1pc
Hot air gun: 1pc
Iron stand: 2pcs
Soldering iron: 1pc
Electronic tweezers: 1pc
Desoldering gun: 1pc
Suction pen: 1pc
AC cord: 1pc